With Universal Design, top-of-mind awareness is focused on interior design when it comes to renovations, a safe and accessible lifestyle is important inside and out.
Research has shown that spending more time outdoors can boost your immune system, promote positive energy and create a relaxing lifestyle.
Outdoor living has become one of Canada's top investments for renovations. People want to spend more time enjoying family and entertaining in their backyards. Universal design can ensure that you can welcome company of different ages and abilities.
Thoughtful exterior design considerations like lighting, pathways and raised gardens can help you enjoy your backyard. But, on a larger scale, when designing your backyard for the future, implementing the following design features will help accommodate any life changing events.
Pathways with edging– Your pathways should have adequate lighting and have a solid surface to accommodate wheelchairs and walkers. A non-slip pathway helps with stability as well (Pathways should be at least 42″ wide). Edging will help with depth perception.
Ramps, Rails and Lifts– The "deck life" is a summer trend in Canada. Decks are no longer your basic 12 x 12 box. People are investing in a an outdoor living space that can include kitchens, showers, hot tubs and trendy dining areas.
When designing an exterior space to enjoy, consider mobility and accessibility. Implementing a ramp, outdoor stairlift or an incline platform will ensure stress-free accessibility.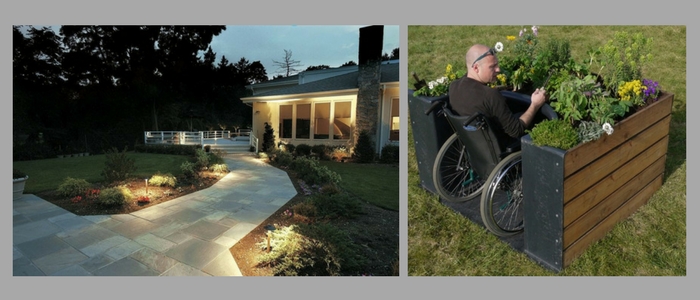 Some small modifications that you can do to adjust to different abilities are:
Installing electrical receptacles higher than usual
Adding lighting to walkway paths
Provide wheelchair pull-up access to seating areas and tables
Low thresholds from inside to out
Nobody can predict the future, but you can plan for it. With interior renovations, we find that all age groups are putting in grab bars and building with a universal design. Now it is time to plan for the future outside so that no matter what, you can enjoy the fresh air.
When thinking of renovating your backyard to customize it to your lifestyle needs, make sure you hire a professional in exterior renovations who has an Aging-In-Place professional with CAPS (Certified Aging in Place Specialist) training working for them