Did You Know? May Is Deck Safety Month
HRM has had its share of deck collapses in recent years. These events highlight the importance of building to current code standards, as well as annual inspections and maintenance. Once you know what to look for, it's easy to spot the issues and take steps to correct them.
Code Compliance when Building Decks in the HRM
Building code standards are frequently updated and revised to reflect updated information and technology. What was acceptable in the past likely would not be compliant or safe by today's standards. The most common areas that fail inspections are stairs, railings, and guardrails, as well as flashing, the connection to the house/structure, and footings.
Depending on the height of your deck from the ground, the railing should be 36-42" high
Stairs have a range of acceptable dimensions for the rise and tread which vary depending on the application
Spacing in guardrails should be less than 4"
Footings extending past the frost line are required for all decks attached to a house
The ledger board should be bolted to the house
Flashing should be installed above and behind the ledger board to prevent water penetration
Check out this permit application guideline for decks from HRM.
Annual Inspections & Deck Maintenance
Annual inspections and maintenance can help prolong your deck's life, maintain structural integrity, and prevent injuries. If you think there's a problem or you're unsure you should always bring in a professional to have a look.
Visually inspect the wood for splitting or decaying
Make sure the flashing is intact and no water or debris are accumulating
Verify that the ledger board is fastened and secured to the house and that the fasteners are in good condition (no rust or corrosion)
Deck, stairs, and railings should not move, they should be secure with no wobbling or swaying
Regularly clean up leaves and debris as they can be slipping hazards and also promote mildew and deterioration
Keep snow to a minimum and shovel as needed to prevent overloading the structure
Check out this 10-Point Deck Safety Checklist for homeowners from The North American Deck and Railing Association.
Examples of a Failing Deck that are not Code Compliant in HRM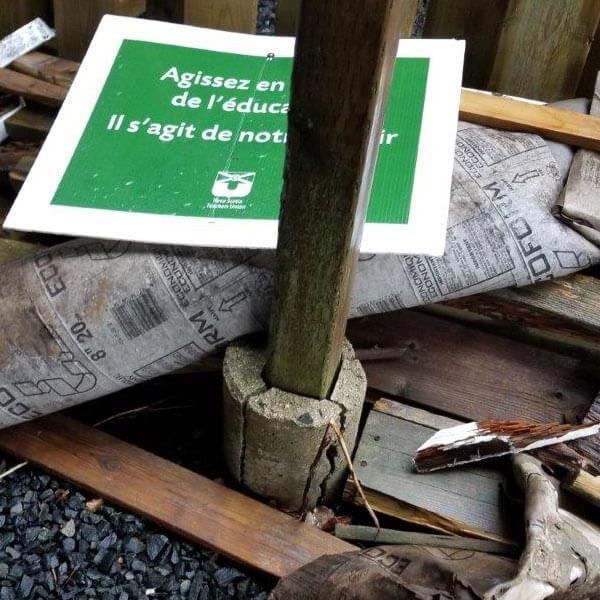 We take pride in the design and installation of the decks we build. That's why we take care of everything, including the permit application, for you. Each project is built to be safe and structurally sound, adhering to both the current National Building Code and HRM standards. If you have concerns or need your deck replaced, give us a call for a complimentary assessment and/or quote.
Have questions or want to request a quote?