Accessibility renovations prepare you for life changing events and longevity in your home.
No one can escape the effects of aging, but accessibility modifications are not just to prepare you for aging, they are to prepare your home for life changing factors.
Who should renovate with accessibility in mind? Homeowners that are:
Aging in place without urgent needs: People preparing to live longer in their own home
That have progressive condition-based needs: People with chronic or progressive health conditions
That have suffered a traumatic changes: People that experience a life changing traumatic change who need modifications to allow them to live in their own home.
Small accessibility features that you can incorporate into your renovation project are:
Grab Bars and Rails: Say "good-bye" to industrial looking grab bars and "hello" to stylish and functional grab bars that can coordinate with any bathroom decor.
Lever-style handles: When picking out your levers, whether it is for your faucets, doors or kitchen cabinets you should always select a lever-style handle.
Adjustable Shower Heads: When installing new showerheads, pick an adjustable slider arm with your shower head. This accommodates a person who needs to sit while in the shower or needs assistance while showering.
Remote Controls: You can now have a smart home. There are home systems for lighting, window coverings, heating systems and more which can be controlled by a click of a button.
Comfort-Height Toilets: The best toilet for accessibility is one with a height of 16-17 inches from the floor. This height assists in both somebody helping a person after use or simply making it easier to get up after use.
Shower Bench: A bench is a great feature in a shower. This allows anyone with standing restrictions to sit and relax in the shower.
Bathrooms and Kitchens are two main rooms to think about adapting accessibility features into the design. Don't make the mistake of thinking "I'm too young" or "I don't have any health concerns", prepare for the future.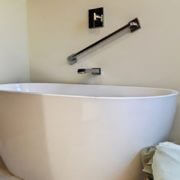 When hiring a professional renovator you should look for a company that has specialized staff in this type of design. Hire one that is a Certified Aging in Place Specialist.
Did you know that Nova Scotia Housing offers funding programs for accessibility renovations? Click for more info