Enhance Your Outdoor Space with Top Deck Railing Ideas
We value that a deck is a perfect place to unwind, host gatherings, and enjoy the beauty of the outdoors. When designing your deck, the railing is crucial for safety and aesthetics. 
The right deck railing can transform your outdoor space, adding a touch of style and personality. This blog post will explore some deck railing ideas that can elevate your deck and create a welcoming atmosphere for you and your guests.
1. Classic Wood Railing
Wood railings are timeless and bring any deck a warm and natural look. They can be stained or painted to match your deck's colour scheme. You can customize with various styles such as straight, vertical balusters or horizontal designs.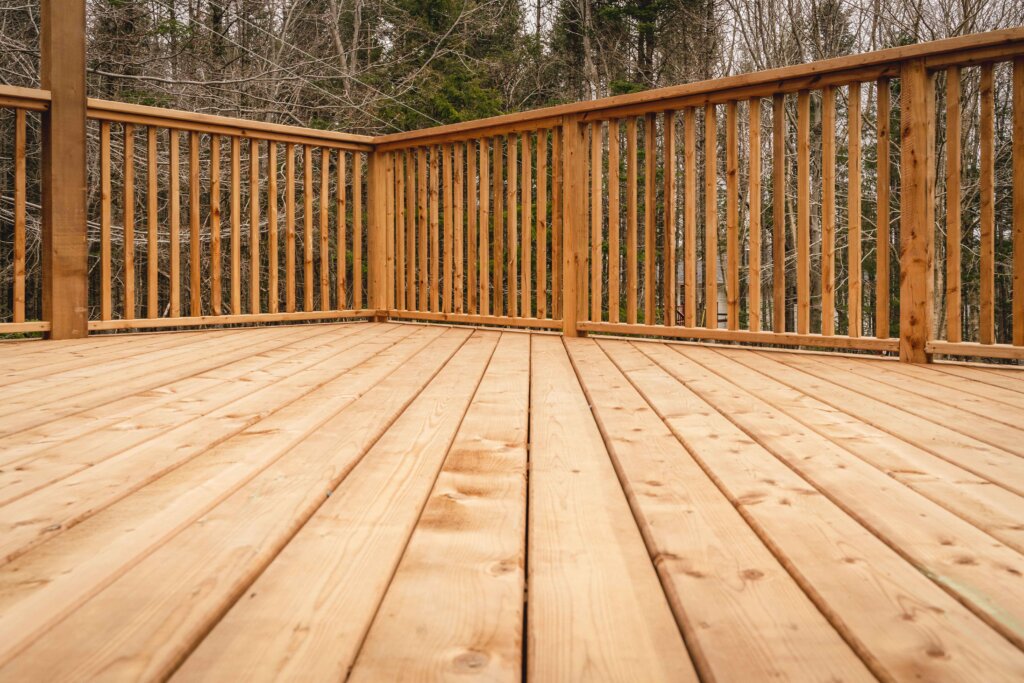 Wood railings seamlessly blend with the natural surroundings, creating a harmonious connection between your outdoor space and the environment. The earthy tones and organic wood textures complement outdoor landscapes, making your deck feel like an extension of nature.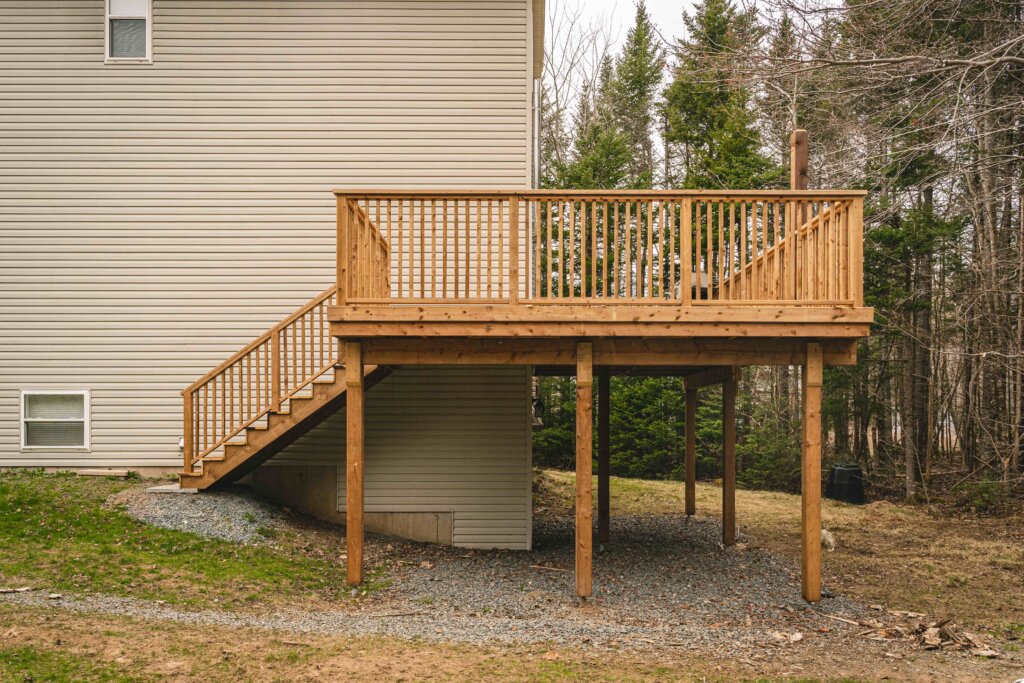 Proper maintenance and care make wood railings highly durable and withstand outdoor elements. Regular sealing or staining helps protect the wood from moisture and prolong its lifespan.
2. Modern Metal Railings
For a sleek and contemporary look, metal railings are an excellent choice. Aluminum, stainless steel, and wrought iron are popular options due to their durability and low maintenance. 
Metal railings resist weather elements, including moisture, sunlight, and temperature fluctuations, ensuring they maintain structural integrity over time.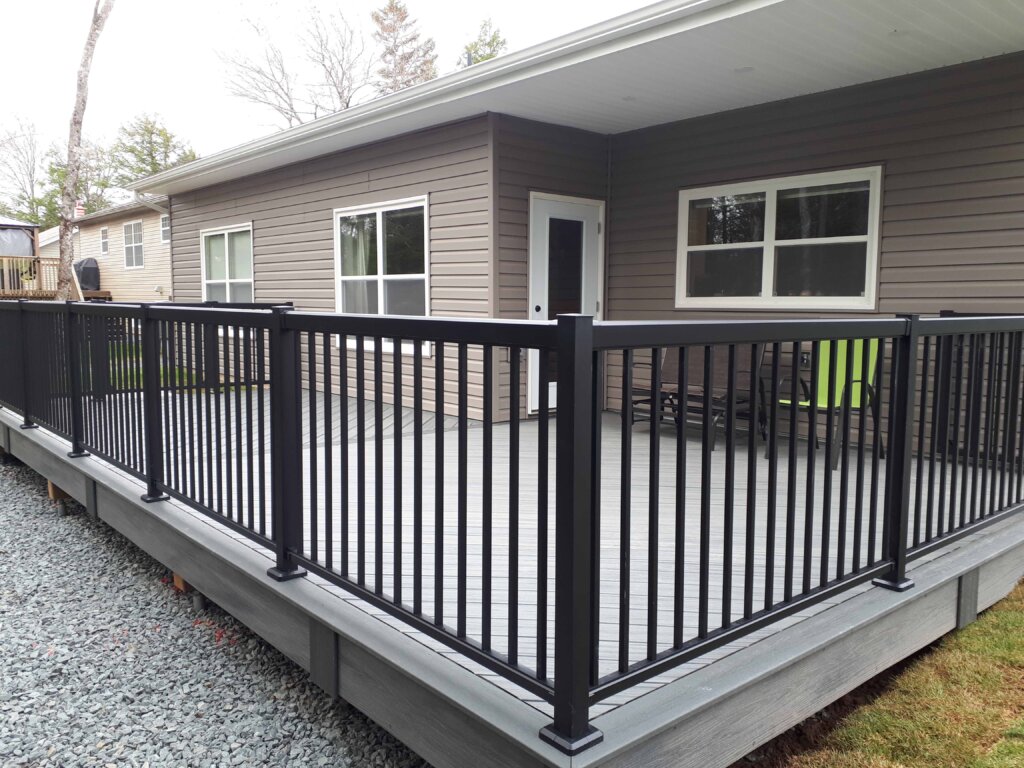 Metal railings can be designed with intricate patterns or minimalist designs, offering safety and visual appeal. You can pair your metal railings with glass panels for a modern, transparent look that allows unobstructed views like on this pergola railing.
You can finish metal railings in various ways to achieve different looks and complement the overall design scheme. 
3. Glass Panels
If you have a stunning view or want to create a sense of openness, glass panel railings are an excellent choice.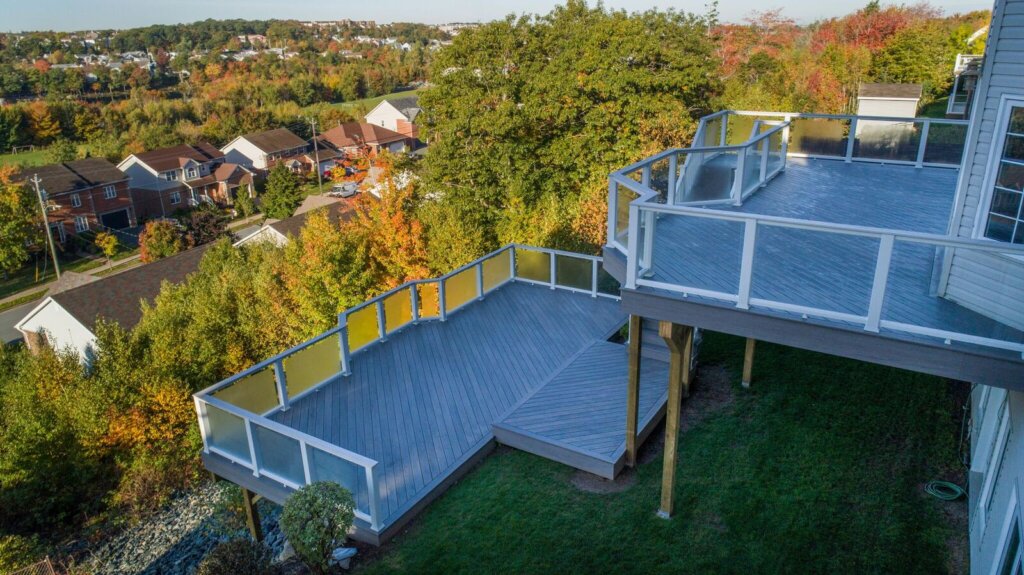 Glass railings consist of tempered glass panels held in place by metal frames or posts. Glass railings provide an unobstructed view and allow natural light to flow through, creating an airy and contemporary atmosphere. 
The glass railings in this sizeable outdoor deck renovation–a deck designed for hosting gatherings–impart a sleek look to any design, making them ideal for modern and minimalist designs. 
Glass can be customized in terms of thickness, tint, and texture, allowing versatile design possibilities to complement various architectural styles.
Glass railings are also low-maintenance and are resistant to fading, corrosion, rust, and degradation caused by exposure to sunlight, moisture, or temperature fluctuations. They can retain their structural integrity and aesthetic appeal over an extended period.
4. Composite or Vinyl Railings
Composite and vinyl railings are ideal for homeowners seeking a low-maintenance option that mimics the appearance of wood without the need for regular painting or staining. 
These materials are highly durable, resistant to rot and insect damage, and can withstand harsh weather conditions.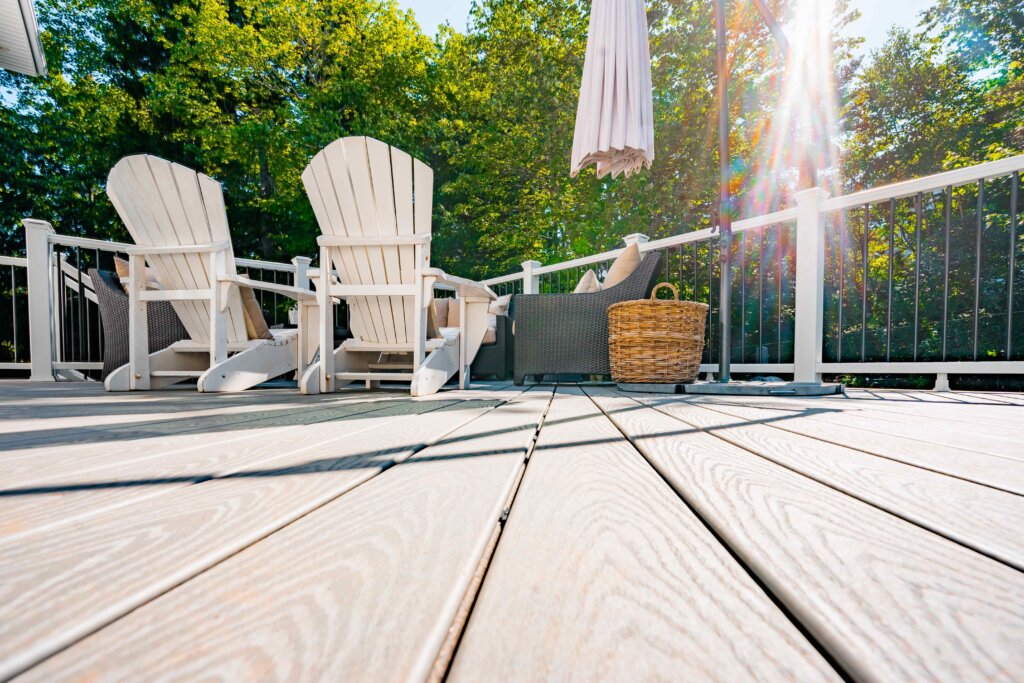 Composite and vinyl railings offer various colour and style choices, allowing homeowners to find the perfect match for their deck or outdoor space. You can find these materials in many shades, finishes, and textures, including wood grain patterns that mimic the look and feel of natural wood. 
The availability of different styles, from traditional to contemporary and ornate designs, provides flexibility in achieving the desired aesthetic for your home.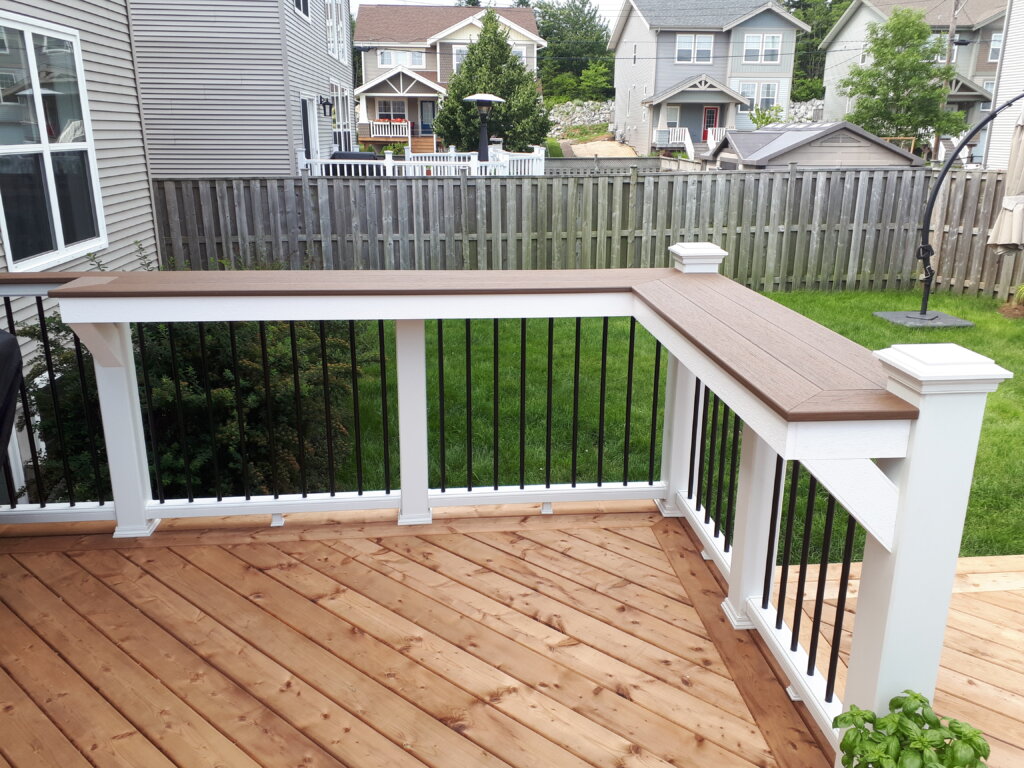 Installing composite or vinyl railings can enhance your home's value and curb appeal. These materials provide a polished and finished look to your outdoor space, making it more visually appealing. The low-maintenance aspect of composite and vinyl railings can attract potential buyers, as it reduces future maintenance costs and upkeep requirements.
Choosing composite or vinyl railings can contribute to a more sustainable and environmentally friendly option. These materials are often made from recycled content, reducing the demand for new raw materials. Opting for composite or vinyl railings can help minimize deforestation and support efforts toward a greener future.
All-Craft is proudly a TrexPro Builder. Find some composite railing inspiration here.
5. Mixed Materials
If you want to make a bold statement with your deck railing, why not combine different materials for a unique and eye-catching design? 
Mixing materials like wood, metal, and glass can create a visually appealing contrast and add a touch of style and creativity to your deck design. For example, you could incorporate metal balusters with a wooden top rail.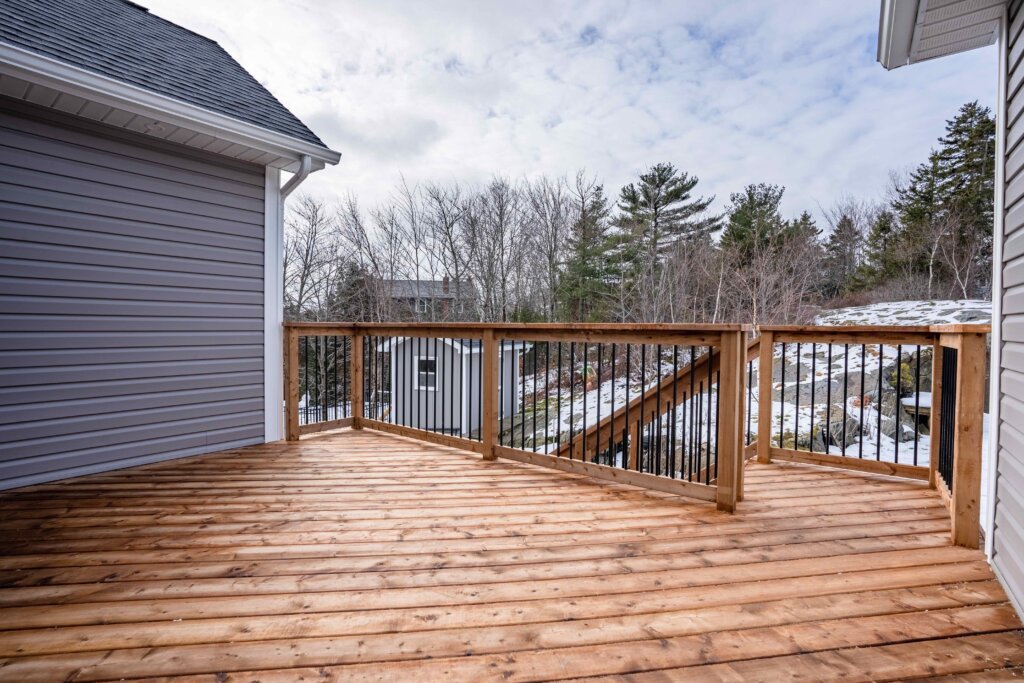 This combination lets you enjoy the warm and natural aesthetics of wood while introducing sleek and contemporary metal. The contrasting textures and colours create a dynamic visual effect. 
Or you could use glass panels with a metal or wood frame. This combination introduces transparency and an open feel to your deck while maintaining safety and security.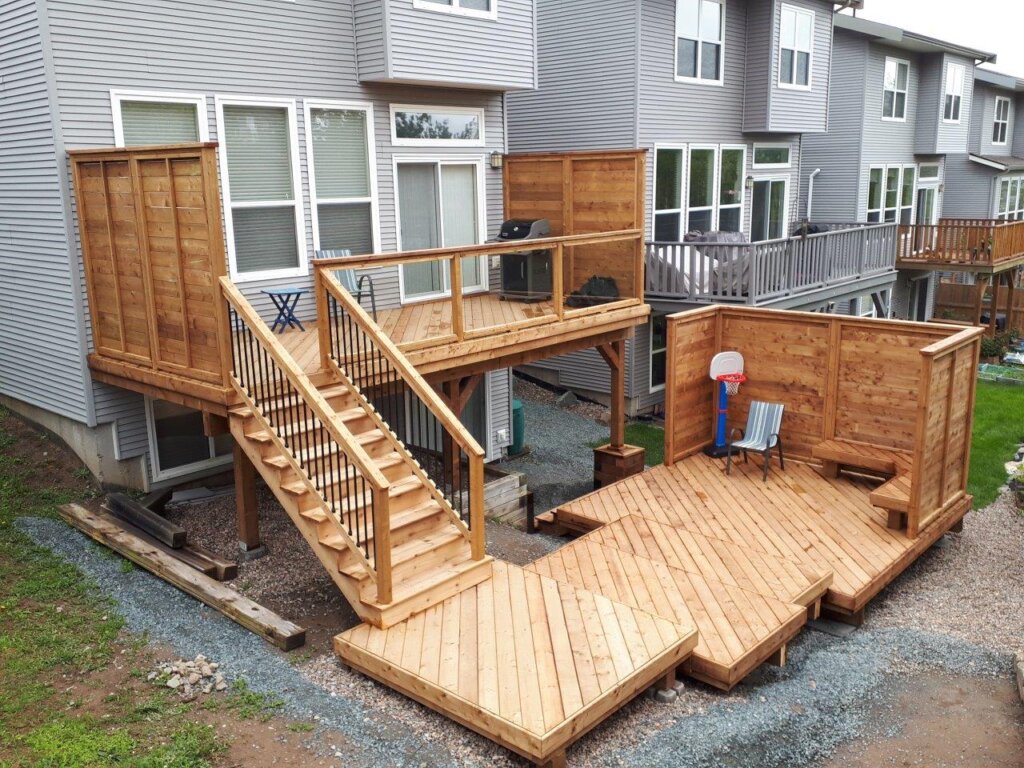 By incorporating elements such as wood, metal, and glass, you can achieve a visually appealing contrast that adds depth and character to your outdoor space. Let your creativity guide you. Blending different materials allows you to customize your deck railing to suit your style.
Wrapping Up
Choosing the right deck railing is essential for both safety and enhancing the overall aesthetic appeal of your outdoor space. Whether you prefer a classic look with wood railings, a modern touch with metal or glass, or a low-maintenance option with composite or vinyl, plenty of options are available to suit your style and needs. By selecting one of these top deck railing ideas, you can transform your deck into a beautiful and inviting area where you can relax, entertain, and enjoy the great outdoors.
Note: Cable rails are an option to mention; however, it is essential to know that not all cable rails are accepted by specific building codes.
"Railings today are much more than for safety; they complete the look and feel of the deck. With hundreds of combinations and various material options, making the right selection can be difficult, but we can help guide you to the best option."

Justin, All-Craft General Manager
For any questions about deck railings or renovations, contact us today to discuss your project.